What has our chapter been up to? Read some of our events below to learn what our amazing chapter works on.
Upcoming and Recent Events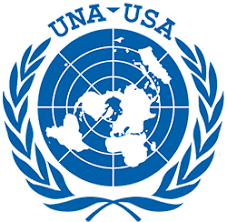 CELEBRATING THE 71ST ANNIVERSARY OF THE UNIVERSAL DECLARATION OF HUMAN RIGHTS
We will be celebrating the 71st anniversary of the Universal Declaration of Human Rights, as in previous years, by reading the document in as many languages as possible and English.
Please join us for this special gathering and bring some friends! We hope to see you on December 10th!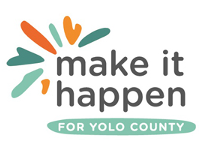 Annual Holiday Gathering
Branch members and UCD AAUW students will be celebrating the holidays on Saturday, December 14th.
Speaker this year is Jan Judson of Make it Happen.In the spirit of the season, we would like to support Make it Happen with donations of gift cards from Target or Walmart.
Check out our Decmeber newsletter for details!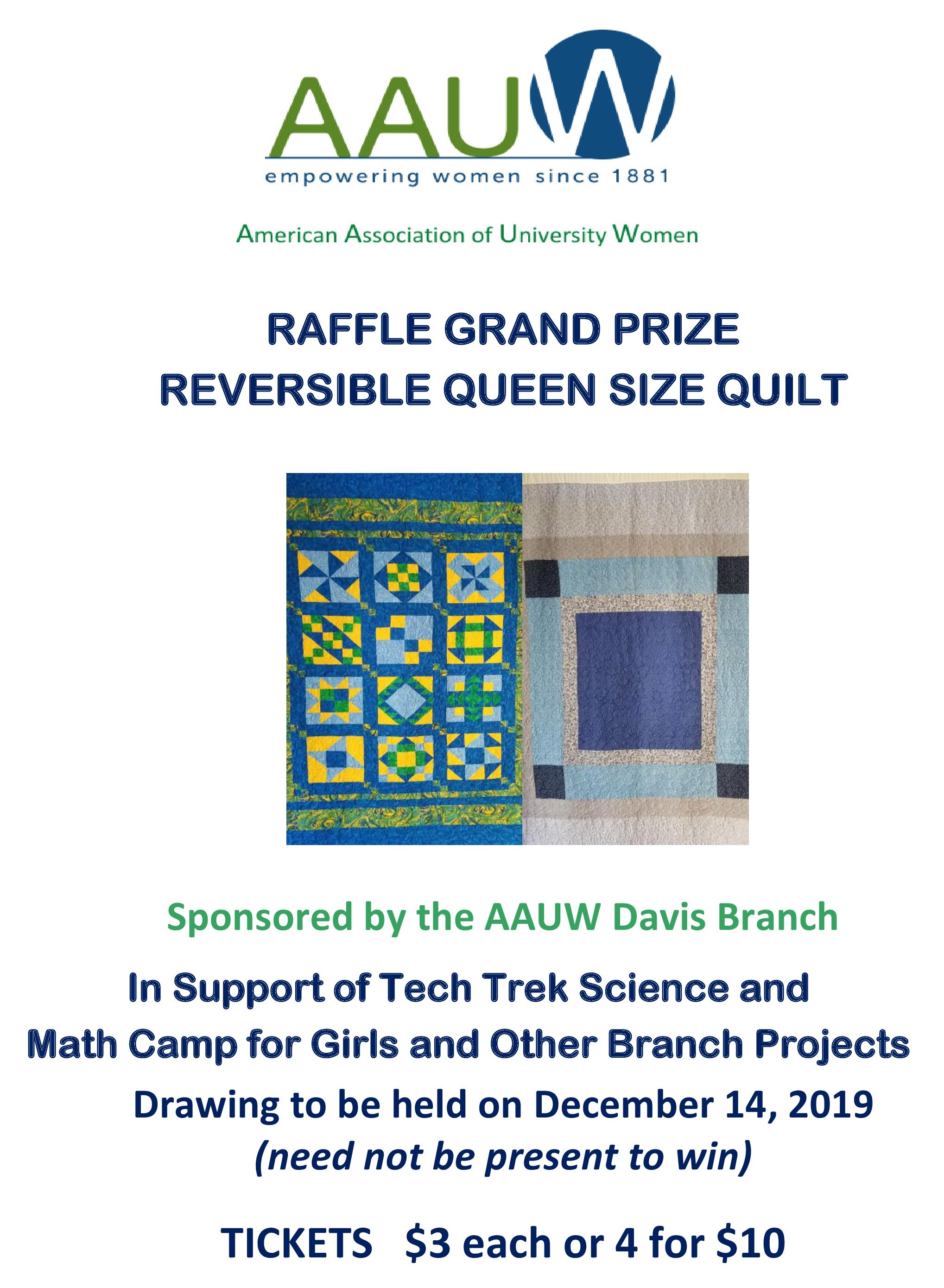 Quilt Raffle 
We are in the final weeks of raffle ticket sales to support Tech Trek scholarships and other branch projects!  Tickets are $3 each or 4 for $10.  We encourage members to support our cause by entering the raffle!
Grand prize is a beautiful queen-size reversible quilt, lovingly made and donated by Marti Abbott. 
The second prize is a stunning jewel-toned mohair/wool shawl, handwoven and donated by weaving instructor Verena Borton.  
The raffle will take place at the Holiday Gathering on December 14th so get your raffle tickets soon!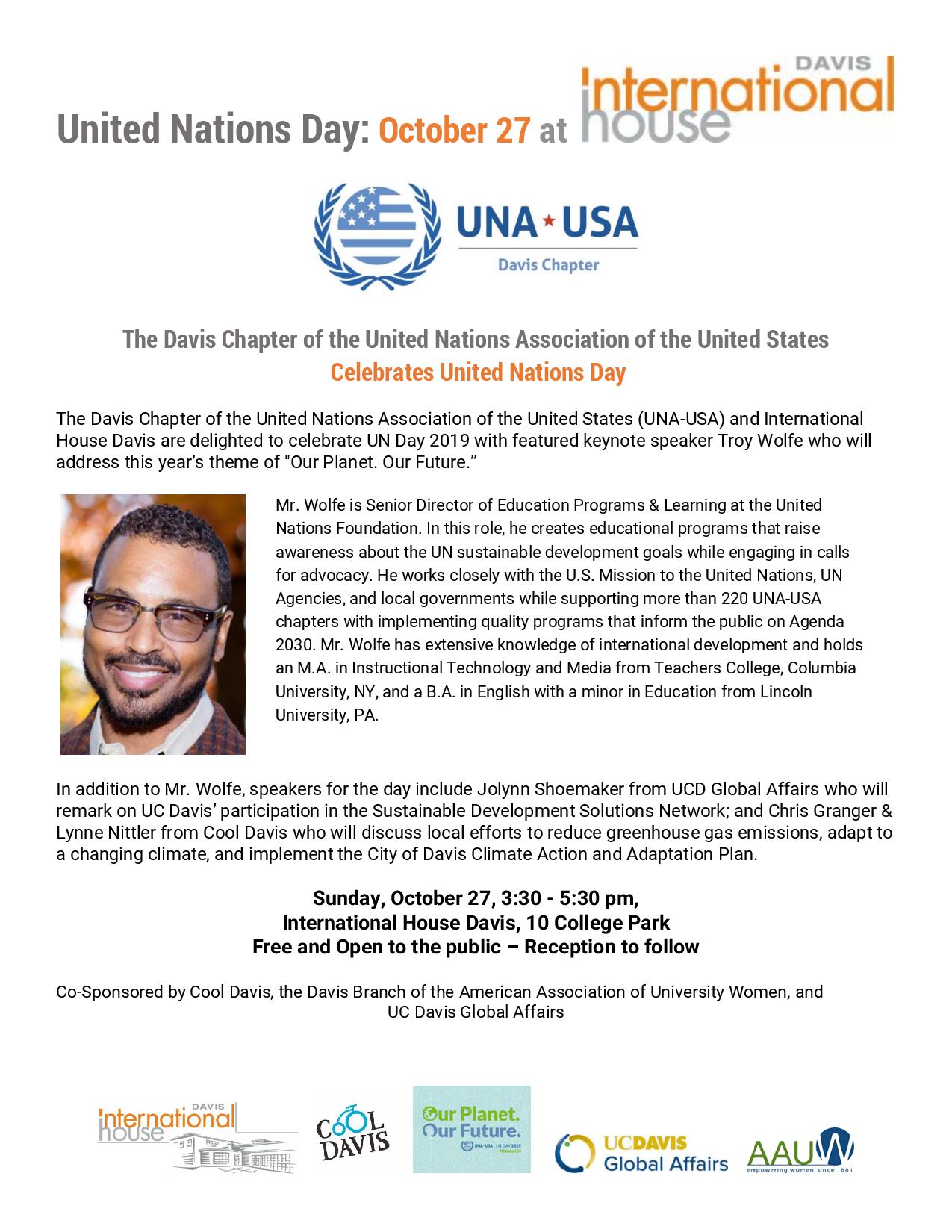 United Nations Day 2019: "Our Planet. Our Future"
On October 27th from 3:30-5:30pm, the Davis Chapter of the United Nations association of the United States (UNA-USA) celebrated United Nations Day!
Thank you to our speakers, Troy Wolfe-the Senior Director of Education Programs and Learning at the UNF, Jolynn Shoemaker from UCD Global Affairs, and Chris Granger & Lynne Nittler from Cool Davis!
We loved seeing you all there!
International Festival Davis 2019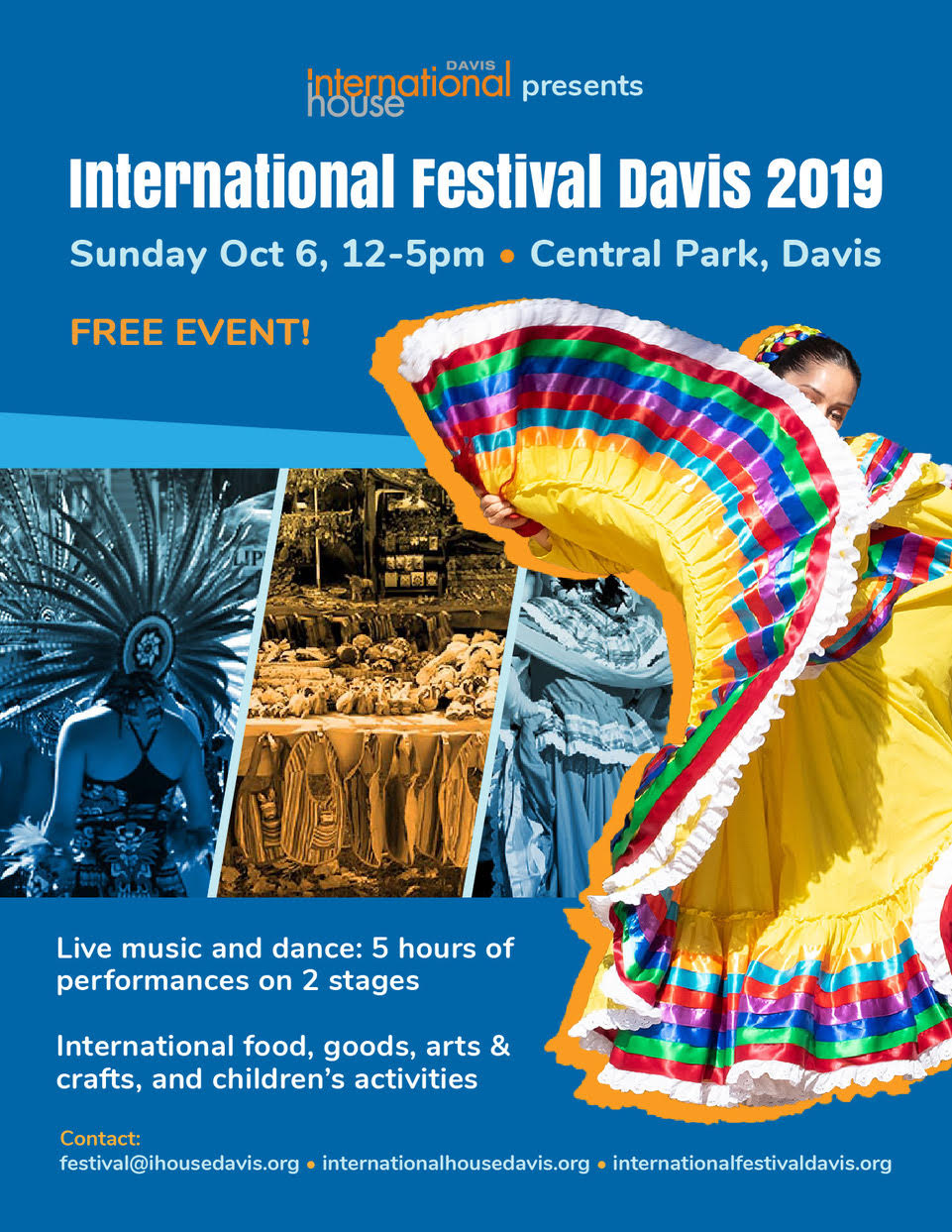 On Sunday, October 6th 2019, AAUW tabled at the International Festival in Central Park. We had a wonderful time getting to know everyone and look forward to seeing you all at future AAUW events!
Thank you to the members who made this event a success!
Find out more about the International Festival Here!
Tech Trek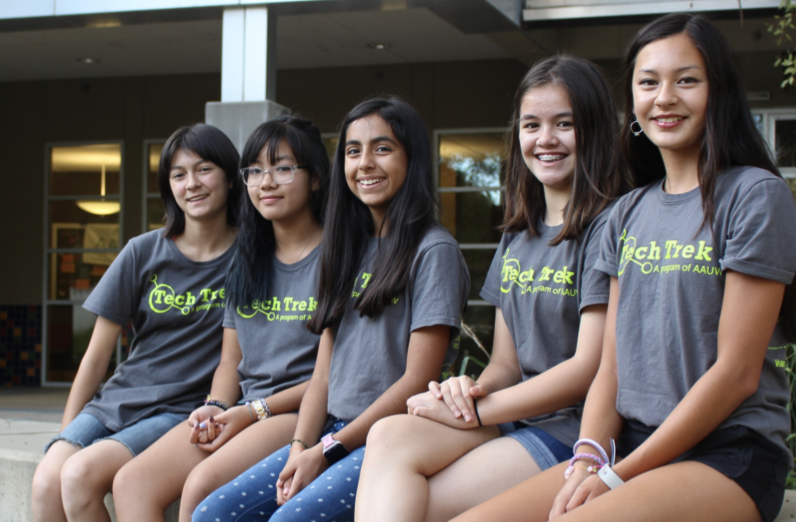 July 21-29th, "the wildly successful Tech Trek inspired campers in STEM education on the UC Davis campus.
Our Visit Day welcomed 33 members from 13 Northern California and Nevada branches and 33 visitors from Community invitations!"
Teck Trek Quilt Raffle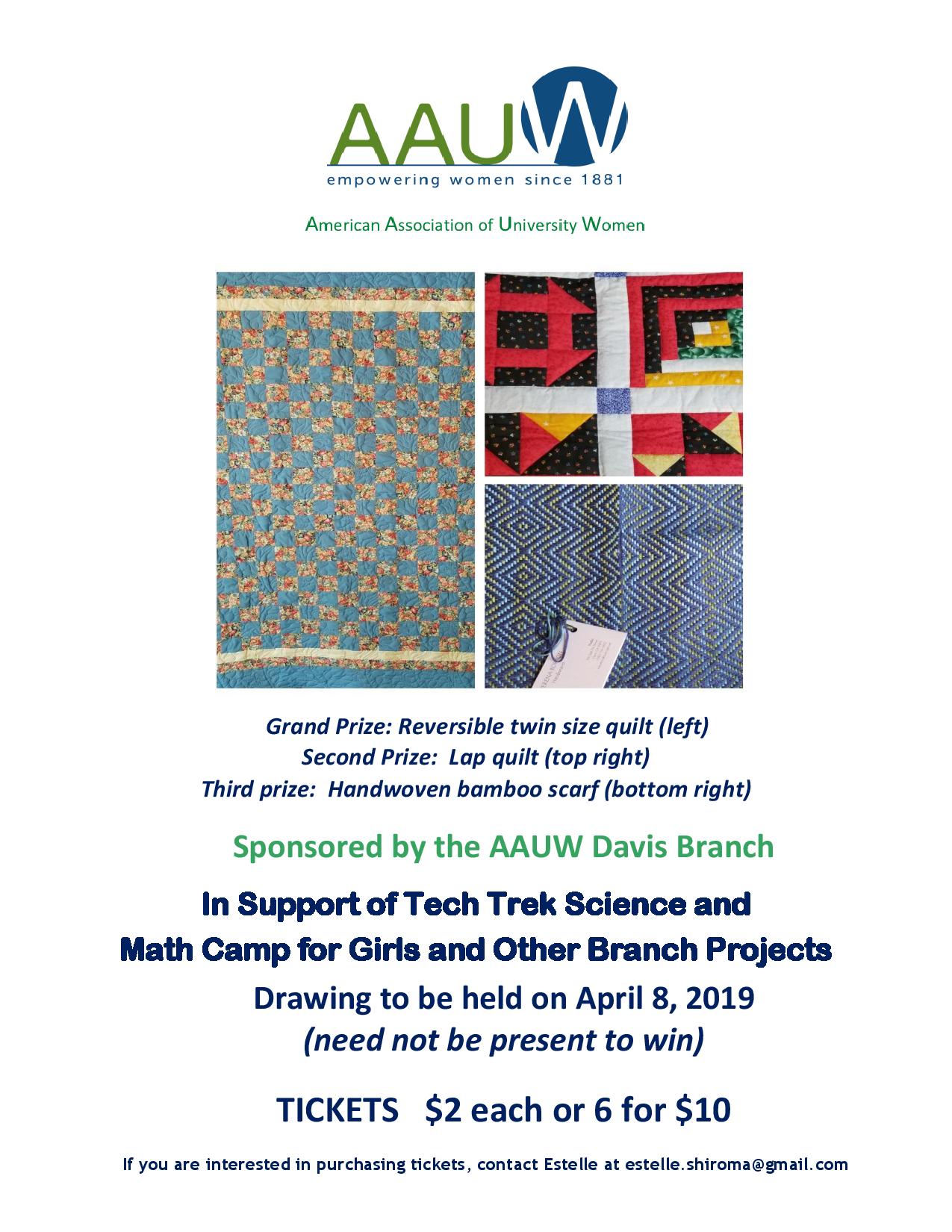 In support of Teck Trek Science and Math Camp for Girls and Other Projects, we held a raffle drawing on April 8, 2019.
AAUW Tech Trek is a one-week summer camp guided towards helping girls envision their future in STEM fields by making them exciting and accessible.
The prizes included a reversible twin size quilt, a lap quilt, and a handwoven bamboo scarf!
Thank you to those who bought a ticket!
Book Club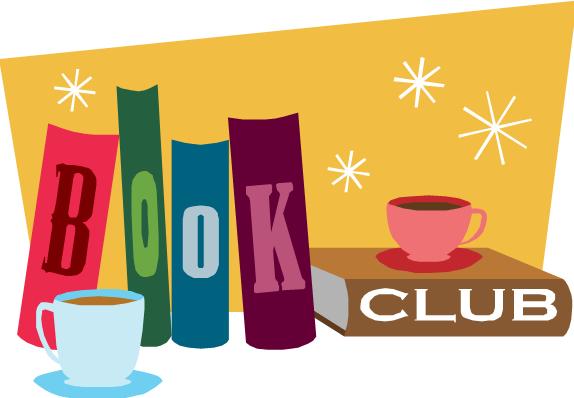 The next meeting for our bookclub is on November 2nd, 9am, at Mishkas! We will discuss The Island of Sea Women by Lisa See. The group welcomes readers to join in the literary journeys and interesting conversations.
Book Club dates posted on our calendar.
UNA*USA – Davis Chapter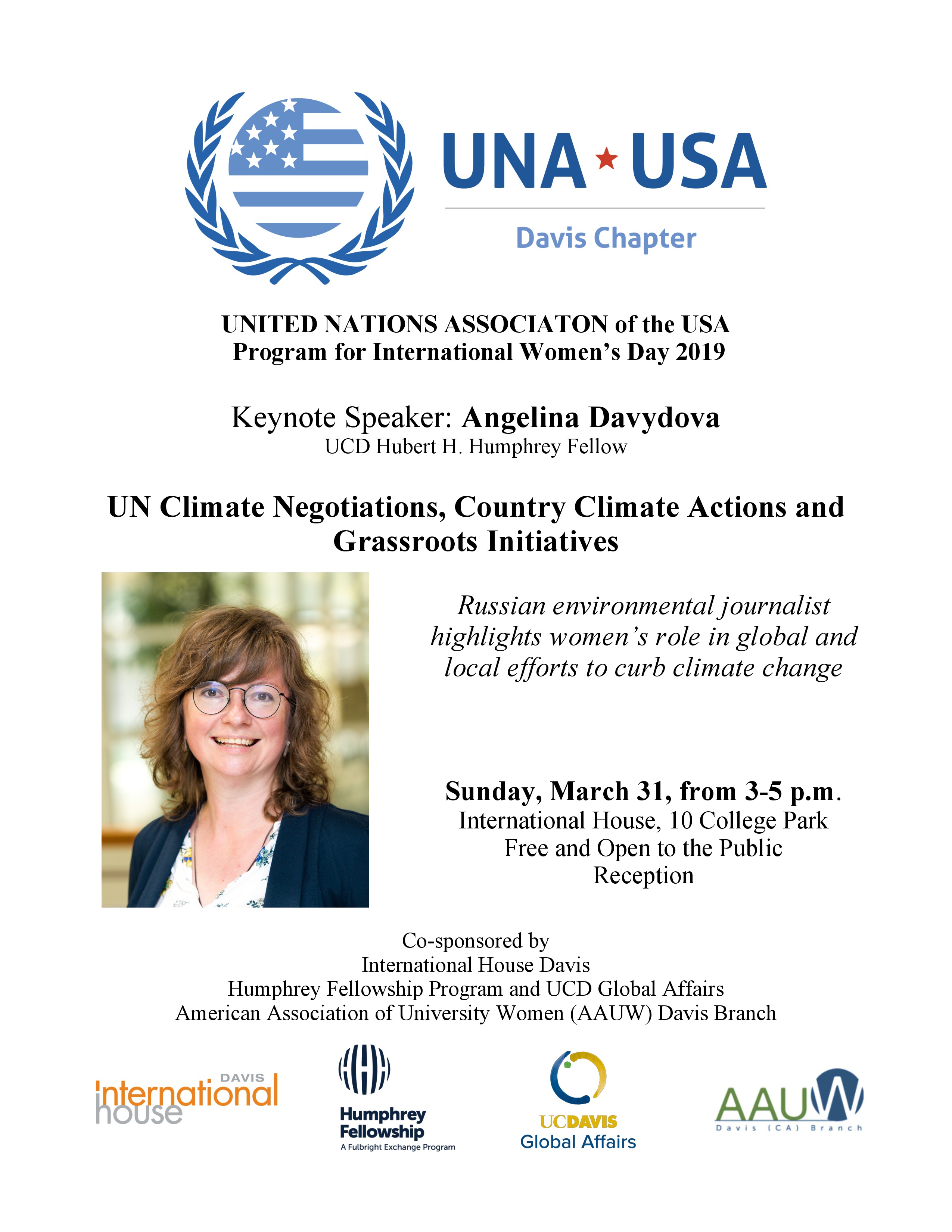 On March 31st, we held the UNA International Women's Day Celebration. This event was co-sponsored by the AAUW Davis Branch, International House Davis, Humphrey Fellowship Program and UCD Global Affairs.
Topics: Climate Negotiations, Country Climate Actions, and Grassroots Initiatives.
Angelina Davydova, is a Russian environmental journalist. She highlights women's role in global and local effort to curb climate change!
Womans March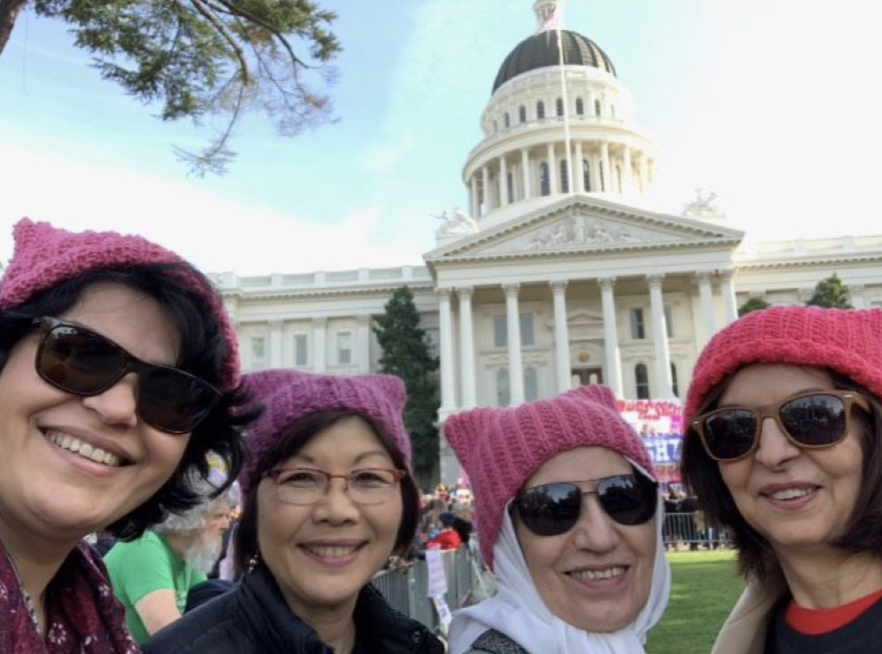 AAUW Davis Branch members joined 10,000 women, children, and men who participated in the third Sacramento Women's March on January 19th. The march started at Southside Park with supporters all along the route.
Angelique Ashby, the only woman on the Sacramento City Council, spoke about the recent women's wave in Congress, State Assembly, and local government. She emphasized the diversity of the newly elected women and encouraged women to participate in politics.
Annual Events
This camp for girls is very special to our hearts here at the AAUW-Davis Chapter.
Tech Trek offers girls hands on experience and knowledge from top women leaders in the fields of science, technology, engineering, and technology. The week long emersion program allows these young students the opportunity to explore their interests while building their confidence as powerful innovators for the future. We are very excited to share that there will be a camp at the UC Davis campus in late July!
STEM Panel Evening 2019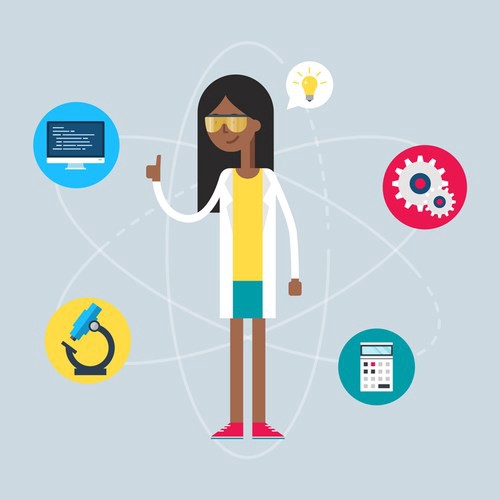 On Tuesday, January 29th at Da Vinci Charter Academy MPR in Davis, the AAUW-Davis Chapter will hosted our annual STEM Panel! Speakers Presented Included:
Allison Goodman, Principal Engineer at Intel
Paulina Zielinska, Director of the Office for Global Programs, UC Davis School of Veterinary Medicine
Cecilia von Beroldingen, Laboratory Director, California Department of Justice DNA lab
and more!
Annual Luncheon 2019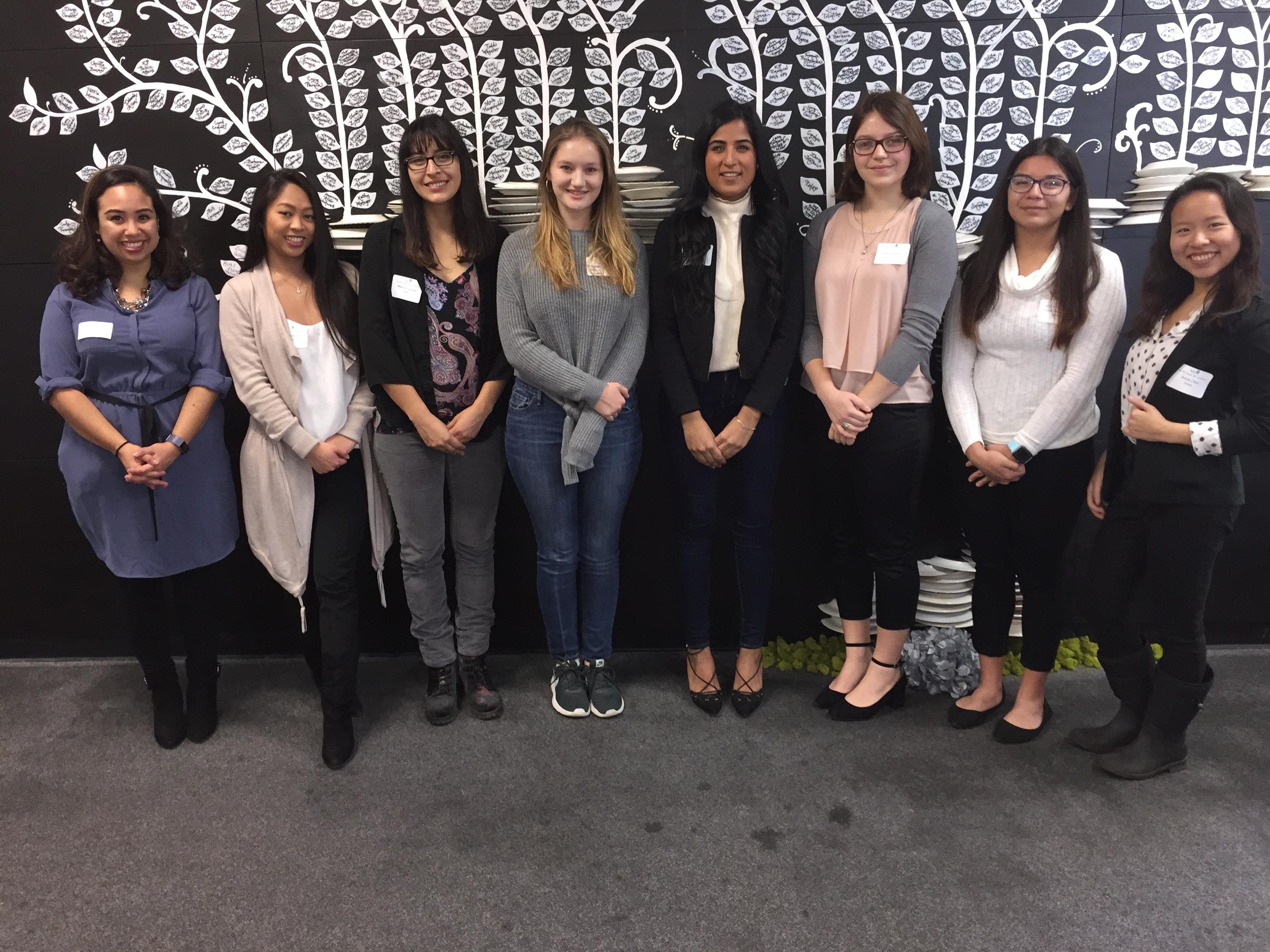 The Davis AAUW Professional Branch hosted its annual Luncheon January 26, 2019 from 11:00 AM to 2:00 PM at Plates Café (an employment learning program for formerly homeless mothers with children) and Catering in Sacramento.
Speakers Included:
Kait Murray: an educator and researcher of community leadership, focusing on historically marginalized people in science and agricultural education.
Andrea Morgan: an environmental engineer, pursuing concurrent master's degrees in public policy and environmental engineering at U. C. Berkeley.
More on STEM: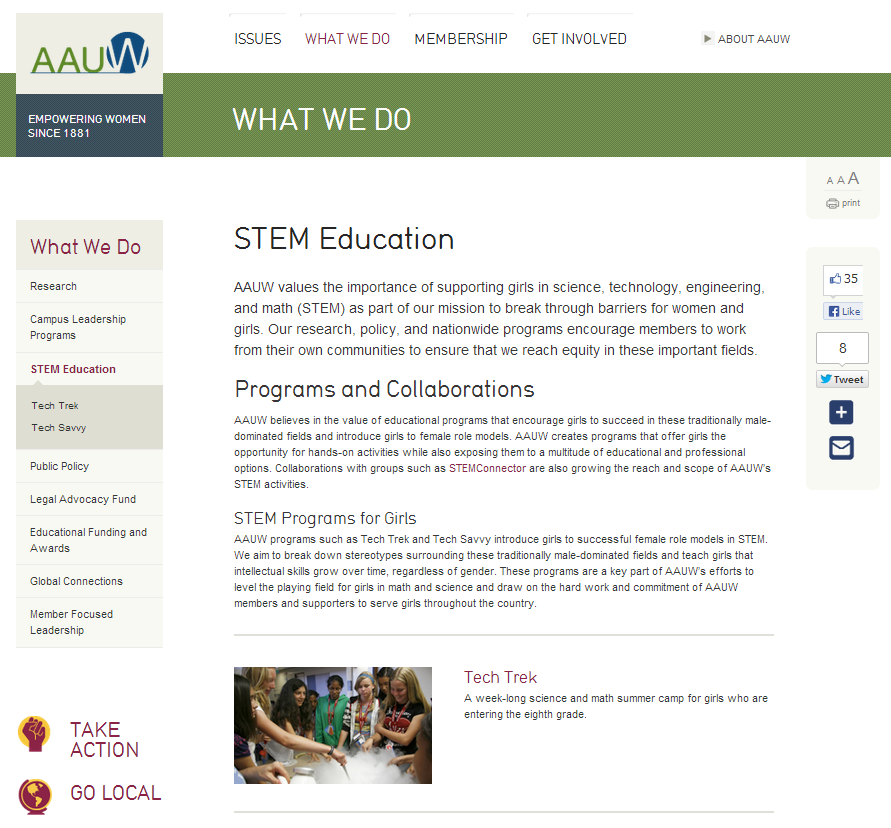 STEM, Science, Technology, Engineering & Math: Supporting women and girls in science, technology, engineering, and math, STEM has been a part of AAUW's mission since 1881. Throughout its history, AAUW has encouraged women to work and study in these traditionally male fields, invested millions of dollars in graduate fellowships and grants, as well as engaged in research, programming and advocacy to break through barriers for women and girls.